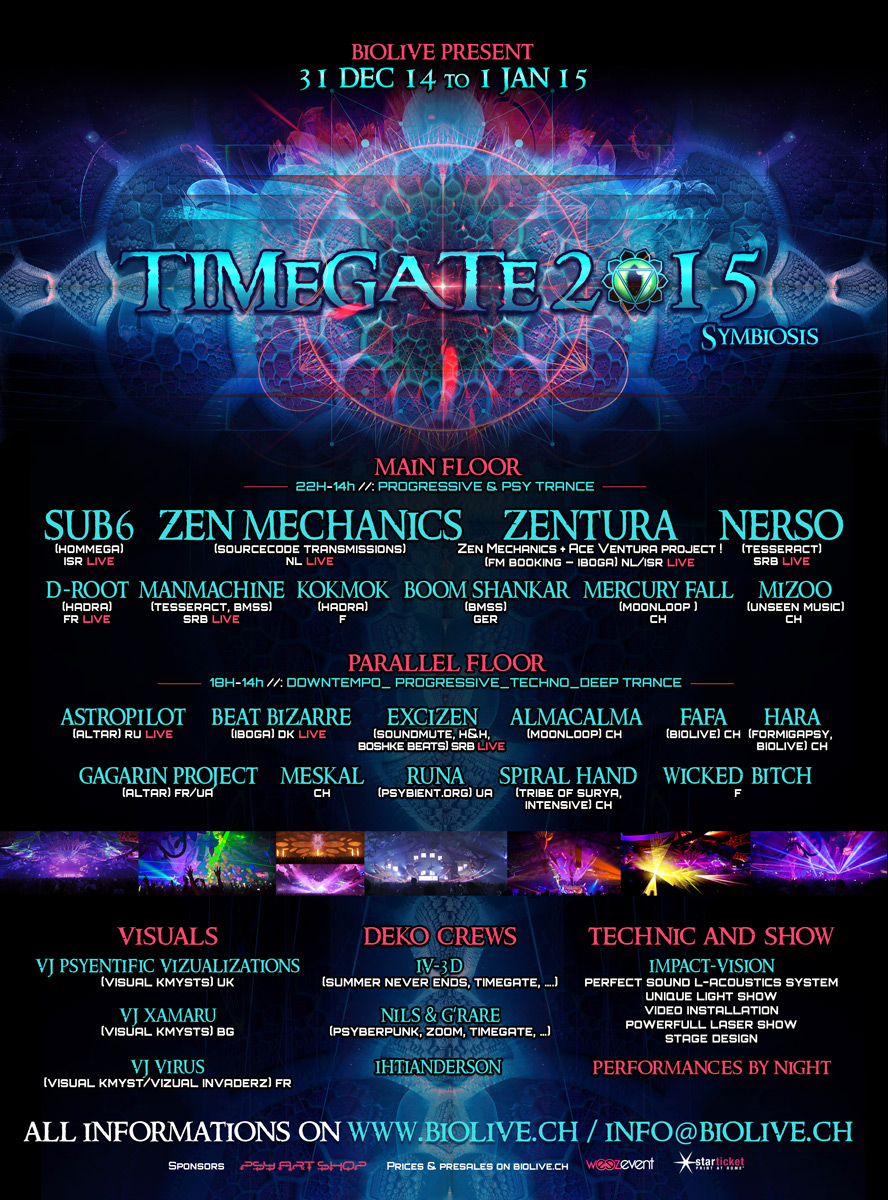 TIMEGATE 2015 - Symbiosis

Website :
[url]www.biolive.ch[/url]
Facebook :
https://www.facebook.com/Timegatefestival
Facebook event :
https://www.facebook.com/events/1503420559945133/?ref=3&ref_newsfeed_story_type=regular
Infos :
info[at]biolive.ch
Cher public.
Après 10 éditions de Timegate festival, nous avions décidé de faire un break cette année 2014. Et bien non ! Nous avons changé d'avis. Nous vous proposons ainsi pour la nuit du 31 décembre 2014 une édition qui s'appelle Timegate 2015 – Symbiosis. Une seule nuit avec un main floor (progressive & psy trance) et un parallel floor (downtempo, progressive, techno, deep trance). Nous nous réjouissons de vous accueillir.
Nous réalisons un tout nouveau projet visuel en version scène frontale.
Nous espérons que vous appréciez la globalité de notre festival, et prenez soin de vous.
▀▀▀▀▀▀▀▀▀▀▀▀▀▀▀▀▀▀▀▀▀▀▀▀▀▀▀▀▀▀▀▀▀▀▀▀▀▀▀▀▀▀▀▀▀▀▀▀▀▀
MUSIC ARTISTMAIN FLOOR (Mainfloor du 31 chaque annee en version Scène frontale)
22H-14h //: PROGRESSIVE & PSY TRANCE
// : LIVE ACTS *
D-ROOT (Hadra) F
MANMACHINE (Tesseract, BMSS) SRB
NERSO (Tesseract) SRB
SUB6 (Hommega) ISR
ZEN MECHANICS (Sourcecode transmissions) NL
ZENTURA (Fm booking – Iboga) NL / ISR
// : DJ'S *
BOOM SHANKAR (BMSS) GER
KOKMOK (Hadra) F
MERCURY FALL (Moonloop ) CH
MIZOO (Unseen music) CH > 2 hours outro set @ main floor
PARALLEL FLOOR
18H - 14h //: DOWNTEMPO_ PROGRESSIVE_TECHNO_DEEP TRANCE
LIVE ACTS :
ASTROPILOT (Altar) RU
BEAT BIZARRE (Iboga) DK
EXCIZEN (Soundmute, H&H, Boshke Beats) SRB
// : DJ'S
ALMACALMA (Moonloop) CH
DEVIN (Tribal Vision Records) CH
FAFA (Biolive) CH
GAGARIN PROJECT (Altar) FR/UA
HARA (Formigapsy / Biolive) CH
MESKAL - CH
RUNA (Psybient.org) UA
SPIRAL HAND (tribe of surya - intensive) CH
WICKED BITCH - F
▀▀▀▀▀▀▀▀▀▀▀▀▀▀▀▀▀▀▀▀▀▀▀▀▀▀▀▀▀▀▀▀▀▀▀▀▀▀▀▀▀▀▀▀▀▀▀▀▀▀
VISUALS :
Mainfloor and Second floor project
VJ Psyentific vizualizations (Visual Kmysts) UK
www.facebook.com/psyviz
http://www.psyviz.co.uk/
VJ Xamaru : (Visual Kmysts) BG
xamaru.tumblr.com
https://www.youtube.com/watch?v=u1cFyQcYzg4
VJ Virus (Visual Kmyst/Vizual Invaderz) FR
www.facebook.com/Virus.Eye.K.Myst.Vjs
DEKO CREWS :
Mainfloor global new project created by
IV-3D (Summer Never ends, Timegate, ….)
www.facebook.com/IV3DTeam
NILS & G'RARE (Psyberpunk, Zoom, Timegate, …)
www.facebook.com/nils.artevent
Parallel Floor by :
IHTIANDERSON
www.ihtianderson.net
TECHNIC AND SHOW :
Impact-Vision (
www.Impact-Vision.ch)
Son L-Acoustics System
Unique Light Show
Video installation
Powerfull Laser Show
Stage Design
PERFORMANCES :
Coming soon
▀▀▀▀▀▀▀▀▀▀▀▀▀▀▀▀▀▀▀▀▀▀▀▀▀▀▀▀▀▀▀▀▀▀▀▀▀▀▀▀▀▀▀▀▀▀▀▀▀▀
===== PRESALES | PREVENTES =====
FR : Suite à plusieurs demandes, nous vendrons également des billets sur place. mais nous conseillons les préventes.
ENG : After several requests, we also sell tickets on place. but we recommend presales.
Presales | Préventes:
Price /Prix : 65CHF + taxes / 53EUR + Taxes
sur
www.biolive.ch
Weezevent (international):
https://www.weezevent.com/timegate-2015-symbiosis
Starticket (Suisse):
http://www.starticket.ch/0ShowInfo.asp?ShowID=81106&ShowDetails=1&Language=F
Sur Place / on place :
Price /Prix : 75CHF / 60EUR
▀▀▀▀▀▀▀▀▀▀▀▀▀▀▀▀▀▀▀▀▀▀▀▀▀▀▀▀▀▀▀▀▀▀▀▀▀▀▀▀▀▀▀▀▀▀▀▀▀▀
INFOS :
Porrentruy / Jura – Switzerland
✷ 1 nights 2 floors Start :
31 dec 2014 at 6pm to 1st januray 2015 at 2pm
✷ Only Presales, limited to 2000 people! take them fast
✷ Food & drinks area / shops
Remember come before midnight or you will miss some great animations.
Only closed water allowed. Smoking areas.
✷ Deco teams, VJs & Mapping, Performances, Laser light and amazing show is in creation
LOCATION :
Complexe 3d – Tennis Couvert d'Ajoie
Porrentruy / Jura / Switzerland
✷ From Germany :
Go tho Basel and follow Porrentruy via Delémont.
✷ From France, Italia, Austria :
Go to Delémont and follow Porrentruy
✷ By car :
Highway (E27/A16) Exit Porrentruy-Est
Turn left at the 1st & 2nd round-abouts
and follow the signs
✷ By train : [cff.ch]
less than 3 hours from Geneva / Zürich / Paris / Strassbourg / Freiburg i.B (D)
less than 4 hours from Frankfurt / Friedrichshafen (A) / Lyon (F)
✷ By plane : [euroairport.com]
the nearest airport : Euroairoport Basel / Mulhouse / Freiburg
Quelques images :